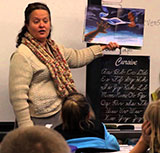 I invite you to follow me on Facebook, Twitter, and YouTube. Just click on any of the social media icons in the header above.
Contact A. LaFaye
A. LaFaye
Author Visit Presentations
Invite A. LaFaye to your school for a transformative visit that engages students in dynamic standards-based presentations built on research-based methods. As an Associate Professor of children's literature, young adult literature, and literary teaching methods, A. LaFaye can work with groups of all sizes (K-12) and offer teacher in-services, and family literacy programing.
PLOT THIS WAY
Grades: K-2
30 Minutes
An interactive workshop with a gradual release approach to narrative structure that starts with a dramatic, active reading, then students reconstruct the narrative structure, then use it as a template to create a story of their own which is written an illustrated as they create it. The workshop concludes as the author reads their new book out loud and they can take it back to the classroom.
Standards Addressed: Ask & Answer Key Questions, Retell a Familiar Tale, Describe characters & major events, discussing illustrations to demonstrate understanding
Follow Up: Teachers can then assign students to do group or independent stories using the narrative structure template graphic organizer
GETTING TO THE SOURCE OF THINGS
Grades: 4-8
45 Minutes
An interactive workshop exploring the primary sources used to write, verify, and expand historical fiction by the author. Students explore how to find, read, analyze, and use primary sources with modeling, guided analysis, then group analysis.
Possible Topics: The Orphan Train, Homesteading, Reunification of African American Families after the Emancipation Proclamation, Reconstruction Era and more.
Standards Addressed: Identify fact, opinion, and bias, understand the relationship between primary and secondary sources, identify the key details of a source, identify point of view, analyze and integrate visual information
Follow Up: Students can locate and use primary sources to evaluate accuracy in historical accounts, write their own account of a historical event, or create historical fiction
Getting the Story Straight
Grades 3-8
45 Minutes
An interactive workshop using the gradual release model to guide students to identify key events of a story to use in their own writing. The workshop opens with a dramatic reading, moves into a guided discussion to identify the narrator, key details, dialogue, sensory language, and sequence of events used to create an effective story.
Follow Up: Teachers can use the graphic organizer to guide students through group or independent writing of their own narratives.
Standards Addressed: Identify the narrator, key details, sensory information, key events, dialogue, discuss how they shape the story, use these elements in writing stories
A Geek Makes Good
Grades 3-8
45 Minutes
In an interactive presentation, the author A. LaFaye explores how she became an author. When she started school she discovered she was a total geek who had a hard time learning to read. She overcame her dyslexia to go on to publish over a dozen books and teach other people how to write. Her talk is funny, inspiring, and focused on character building, life-long literacy, and active listening. The presentation includes a Q & A with students.
Standards Addressed: Anti-bullying, differentiated instruction, active listening, story expansion
Follow Up: Students can make an anti-bullying pledge, create personal goals, write a story
Professional Development:. LaFaye is an Associate Professor at Greenville University who has the credentials to do professional development training in literacy integration in the classroom. She teaches Children's Literature, Young Adult Literature, Teaching Methods, and Creative Writing.
School Visits, A. LaFaye Style
| | | |
| --- | --- | --- |
| | | |
| | | Please contact me with questions or to propose a date. |
| | | |
| | | Groups of any size |
| | | |
| | | A. LaFaye's books are best suited for grades 3-8, but she offers engaging and inspiring sessions for K-12. |
| | | |
| | | Up to three presentations per day |
| | | |
| | | These Common Core-centered sessions are a great way to develop cross-curricular lesson plans that utilize source documents. |
| | | |
| | | Writing workshops with class-sized groups |
| | | |
| | | Family literacy initiatives |
| | | |
| | | Teacher in-services |
| | | |
| | | Fees are negotiable |
Testimonials
"Alexandria LaFaye is a writer's writer! In her bright, engaging talks, she covers skills every writer needs, intellectually and from the heart. She is a teacher, a leader in the field, and a true gem. Not to be missed!" —Alice McGinty, Co-Regional SCBWI Advisor IL
"A. LaFaye is down to earth and extremely funny." —Pennsylvania student
"A. LaFaye, James Howe, and Christopher Paul Curtis were all spectacular! This was the best institute we've had so far." —Joan Trainer, Worcester College Children's Literature Institute
"Thank you a million times over for everything! It is certainly a pleasure to meet someone as special as you are. You truly have a caring heart and it is evident in all that you do. I know everyone that heard your presentation walked away with something to think about. One of our teachers could not say enough about how inspired she was by what you do. I can't thank you enough for making our "Summer Reading Kick-off" event very special. You made my job sooo easy."
—S.A., Manassas, VA
"[A. LaFaye] is a great role model for me" as a writer. — Wisconsin student
"When Alexandria LaFaye speaks, people listen. With wit and charm, she teaches young and old." —Carol Jago, UCLA