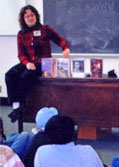 A. LaFaye in Missouri
I invite you to follow me on Facebook, Twitter, and YouTube. Just click on any of the social media icons in the header above.
Contact A. LaFaye
A. LaFaye, Speaker
Academic Connections
| | | |
| --- | --- | --- |
| | | |
| | | Skype Visits: Alexandria would love to talk with your students by Skype for up to an hour. We ask that each student read at least one of her books prior to the visit. It's best if the group is no more than 30 students, book club members, or writing group members so Alexandria has time to answer each person's questions. If you'd like to read our "Guide to a Skype Visit with Author Alexandria LaFaye," send an e-mail request for details, available hours, and fee information. |
| | | |
| | | The Writing Process: Students see each stage of the process of creating a novel including idea journaling, drafting, revision, editing, galleys, and finished novel to emhasize the process approach to writing. |
| | | |
| | | Curriculum Connections: The emphasis on historical fiction explores the importance of research and touches on many topics relevant to social studies standards (research methods, frontier life, Reconstruction period). The discussion of the writing process and elements of fiction in the readings touches on relevant language arts standards (theme, symbolism, figurative language). Common questions about the economics of being a writer also address math standards (percentages, multiplication, real life applications). |
| | | |
| | | Creative Writing: Kids learn a lot about the art of writing from how to generate ideas to the craft of creating ficitonal worlds and the characters who inhabit them. Kids often comment that hearing A. LaFaye speak inspired them to write even if they "never liked writing before." |
| | | |
| | | Teaching Topics: In addition to being an author, A. LaFaye is a professor of children's literature and creative writing who has experience training teachers, librarians, and parents on multiple topics. She is available to give in-service training on the following topics: teaching creative writing, family literacy, historical literacy, cultural literacy, reading circles, and picture book semiotics (the hidden signs in picture books that tell us how kids read pictures). |
School Visits, A. LaFaye Style
With dramatic readings, demonstrations on the process of writing, talks on the joys of research, and a few funny stories from her childhood, A. LaFaye leads an interactive talk on the life of a writer.
As an associate professor of children's literature and creative writing, she's also available for teacher inservices on various topics like Cultural Literacy, Creative Writing, and Picture Book Semiotics.
| | | |
| --- | --- | --- |
| | | |
| | | Groups of any size |
| | | |
| | | A. LaFaye's books are best suited for grades 3-8, but she offers engaging and inspiring sessions for K-12. |
| | | |
| | | Up to three presentations per day |
| | | |
| | | These Common Core-centered sessions are a great way to develop cross-curricular lesson plans that utilize source documents. |
| | | |
| | | Writing workshops with class-sized groups |
| | | |
| | | Family literacy initiatives |
| | | |
| | | Teacher in-services |
| | | |
| | | Fees are negotiable |
Testimonials
"Alexandria LaFaye is a writer's writer! In her bright, engaging talks, she covers skills every writer needs, intellectually and from the heart. She is a teacher, a leader in the field, and a true gem. Not to be missed!" —Alice McGinty, Co-Regional SCBWI Advisor IL
"A. LaFaye is down to earth and extremely funny." —Pennsylvania student
"A. LaFaye, James Howe, and Christopher Paul Curtis were all spectacular! This was the best institute we've had so far." —Joan Trainer, Worcester College Children's Literature Institute
"Thank you a million times over for everything! It is certainly a pleasure to meet someone as special as you are. You truly have a caring heart and it is evident in all that you do. I know everyone that heard your presentation walked away with something to think about. One of our teachers could not say enough about how inspired she was by what you do. I can't thank you enough for making our "Summer Reading Kick-off" event very special. You made my job sooo easy."
—S.A., Manassas, VA
"[A. LaFaye] is a great role model for me" as a writer. — Wisconsin student
"When Alexandria LaFaye speaks, people listen. With wit and charm, she teaches young and old." —Carol Jago, UCLA