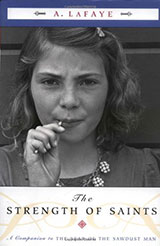 Find this book at your local library or favorite used bookseller.
The Strength of Saints
"Inside me, in a new place, sore with growth, I felt the solid weight of strength holding me up, pushing me forward to face what was sure to come next."
Nissa Bergen is growing up...and finding that she's growing apart from childhood friends and facing adult decisions. Her hometown is changing too. Northerners have settled in Harper, Louisiana, and have opened a cannery. With the new population, new resources —like more schools—are needed. But there's growing racial tension, with threats of violence that may come back to hurt Nissa, who created the town's "separate-but-equal" libraries.
Nissa is faced with a chance to be a hero, and like a true hero, she just wants to do what's right. But doing what's right is never easy. Not even for saints.
Reviews
In this involving sequel to The Year of the Sawdust Man (1998) and Nissa's Place (1999), Nissa turns 14 just as racial tensions in her hometown of Harper, Louisiana, escalate. It's 1936, and northerners have opened a cannery in town, employing blacks and whites, side by side. Nissa struggles to run the local library, and she worries that it will be burned if she tries to integrate it. Meanwhile, Nissa's irrepressible mother, Heirah, has returned, creating tension at home, where Nissa lives with her admirable father and his new wife and baby. When racially motivated violence erupts into rioting, Nissa is at the center of the action. As in her previous novels, LaFaye writes confidently in Nissa's first-person voice, which captures the lilt of southern phrasing. Young readers will be easily drawn into Nissa's conflicts and choices and will fly through this compelling read that's both lightened and anchored by the appealing eccentricities and unshakable principles of her lovable, almost too-good-to-be-true family. —Gillian Engberg, Booklist
The Strength of Saints ... continues the story of Nissa Bergen. As a growing population challenges the resources and long-held beliefs of her racially divided town, the young heroine, creator of "separate but equal" libraries, must confront the difficulties head on. —Publishers Weekly