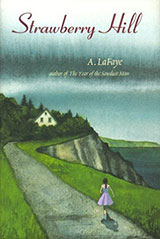 Find this book at your local library or favorite used bookseller.
Strawberry Hill
For Raleia Pendle, spending the summer in Tidal, Maine, sounds like the perfect antidote to the turbulent, free-spirited 1970s in which she lives. Tidal looks almost exactly as it did in 1911, when a tidal wave crushed the town and killed over a hundred people. It's the ideal place for Raleia to live out her daydreams of life at the turn of the century and to avoid her cranky pregnant mother and her self-absorbed father.
After hearing form the local kids about Ian Rutherford, the reclusive old man who lives in a mansion on a hill overlooking Tidal, Raleia thinks she has found her living link to the past. But when she tries to befriend Rutherford, who has hardly left his home since the tidal wave almost seventy years earlier, Raleia discovers that the past wasn't the golden time she imagined.
In a story filled with the romance of the past and promise of the future, a young girl who feels that she doesn't belong with her family or in her time gains a better understanding of herself and the people who care about her. Told in the graceful, lyrical style that marked A. LaFaye's first novel, The Year of the Sawdust Man, Strawberry Hill will touch all readers who have longed to be somewhere else.
Reviews
Raleia Pendle, a 12-year-old loner, wishes she'd been born about 100 years earlier when life was simpler and more refined. She loves anything old-fashioned and revels in antique shops and country stores. A summer in Tidal, ME, a town destroyed by a massive tidal wave in 1911 and now restored to its original appearance, promises an interesting time. But there's more troubling Raleia than the 20th century. Her parents are hippies who do their own thing and give her more freedom than she'd like. Maybe if they were more like other parents, she'd have some friends. The summer is also clouded by her mother's pregnancy; the family can't forget the baby girl who came too early and lived only a few days. Tidal does offer some distractions though. Mr. Rutherford, the recluse on the hill, is a mysterious phantom to the kids in town. When they drag Raleia to his house on a prank, she falls in love with its turn-of-the-century charm and is intrigued by the old man. This is a time of uncertainty and soul searching for Raleia, as well as a time of friendships and self-realization. While her fascination with the past may not be shared by all readers, her struggles with her parents and her search for independence will speak to a wide audience.. —School Library Journal