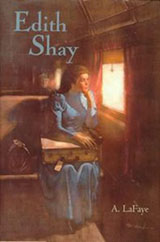 Find this book at your local library or favorite used bookseller.
Edith Shay
In my mind, the only rival to a good newspaper was a train headed out of Wisconsin.
Katherine Lunden has always dreamed of living a life like the ones she reads about in the newspapers, far away from the woods of Wisconsin and the small-town ways she's grown to despise. When a chance finally comes in the form of a train bound for Chicago and an abandoned suitcase marked with the name "Edith Shay," Katherine leaps into the unknown. Armed with a borrowed name and her own fierce courage, she's determined to conquer the big city on her own.
But Katherine soon finds that her new life doesn't exactly match up to her dreams—working for a living is harder than she expected, and making friends in a city of strangers seems impossible. How can she discover herself while she's pretending to be someone else?
Reviews
"Readers inclined to self-reflection will be hooked by the 16-year-old protagonist's commitment to figuring out who she is." —Publishers Weekly
Katherine Lunden has always longed to go to faraway places. In 1865 when she is 16, she leaves her Wisconsin home, makes her way to Chicago, and finds a lost suitcase bearing the name of Edith Shay. In the big city, Katherine takes a job as a seamstress, and on a whim, assumes the name on the suitcase as her own. She becomes homesick very quickly, but her parents write that their home is now closed to her because she has betrayed them by leaving. Too proud to return home, she decides... —School Library Journal