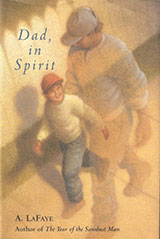 Find this book at your local library or favorite used bookseller.
Dad, In Spirit
"Sure, he was distracted a lot, but my dad was still a cool guy. I would've thought so even if he weren't my dad, and I wanted him back."
Ebon will never memorize the phone book like his brother, Sam; he can't sew Halloween costumes like his sister, Joliet; and he'll certainly never build a backyard castle like his dad. So Ebon grudgingly accepts his place as the normal kid in a weird family—that is, until the day Dad falls asleep.
Working on the local haunted house, Dad hits his head and slips into a coma. Ebon's goal is to get Dad to wake up. It might be more than Ebon can handle, though, especially when Dad starts wandering around the house like a ghost. After all, how can Dad be a ghost if he's alive lying in a hospital bed? Ebon must find a way to unite Dad's spirit with his body—before Dad sleeps forever.
In her first contemporary novel A. LaFaye turns a potentially tragic circumstance into a magical story of the power of one family's love. Distinguished by LaFaye's trademark storytelling, Dad, in Spirit will tickle your funny bone as it touches your heart.
Reviews
In this far-fetched yet engaging novel by LaFaye (Strawberry Hill; The Year of the Sawdust Man), her customary lyrical language takes a backseat to original plot twists. Ebon Jones feels like a boring misfit in his idiosyncratic and creative family of storytellers, sculptors, set designers and costumers. The boy usually acts as audience and gopher for his beloved and playful dad, but when his father has an accident while constructing the local Halloween haunted house, Ebon takes on a different role. While everyone else tries to cope with the tragedy in his or her own way, only Ebon can make contact with his dad's "spirit" and solve the puzzle to bring him back from a coma. Ebon, who is not yet a teenager, musters the courage to temporarily leave his own body behind to save his father's, in what his father later calls a "reverse seance." All the characters are quirky yet warmly believable, including Ebon's mom, who is simultaneously the pillar of the family and the sculptor of "fire-spitting" gargoyles. LaFaye creates enough curiosity about Ebon, his family and their predicament in the first couple of chapters to hook young readers into a story that is at once realistic and fanciful. —Publishers Weekly
Dad, in Spirit is original, provocative, and ultimately joyous. —School Library Journal